Blast From the Past: Garcia's Pizza in a Pan
Everyone should have to work in the service industry at least once in their early adult years because it will make you a better person all around, and my time served began in 1988 in Northwood's Mall, at Garcia's Pizza in a Pan, while I was a seventeen-year-old high school student, and it did make me a better person. My friend Erica encouraged me to come in to apply and the manager Tammy, aka Spam, who hired me on the spot. Garcia's was the place to work in the mall, as it was constantly busy, and was filled with an amazing energy and staff and ambience.
The restaurant opened in Peoria in 1981. The décor was mainly wood, with railings and trim and cubbies and corners galore. I remember a large fireplace and loads of live plants we had to water daily all over the place. The upstairs was so cool and would be filled first. The uniform was simple with a red apron over jeans, a thin faded blue shirt, and a red visor. We made the dough daily, and Tammy did a phenomenal job teaching us the basics for working in a fast-paced popular dining spot. It was just around the corner of the lower level from the second most popular attraction, Aladdin's Castle arcade, another sign of the times.
TDC, also known as 'thinly disguised content', was one of the first things I remember. She said, "If you don't bring an air of genuine kindness when taking an order, the customer will know that as you smile through clenched teeth, and that is not what we do here at Garcia's. We are a family here, helping people enjoy a night away from their pressures and cooking and letting us do the work for them."
Even after 30 years, Erica is still one of my best friends and most of two dozen of us are still in contact. Erica is planning a Garcia's reunion sometime soon, and I can guarantee there will be at least 20 or more coming. Our crew socialized outside of work as well, and would often have gatherings, with some coming into work on a Saturday morning shift at 7 am slightly buzzed from the evening before. One party was pretty epic with the cops showing up, and some of us running half dressed from swimming down the alley, escaping nicely and just in time. Tammy was strict but fair, and once hard work was done, was one of the nicest, honest, and most fun people you could ever meet.
The late 1980s were a wild time, but the quality of friendships made at Garcia's have endured the test of time, and Garcia's delicious pizza and atmosphere have left an unquenched need of nostalgia for everyone in Peoria who has so many memories of the iconic restaurant. The restaurant moved locations in the early 1990s, and slowly lost its luster as times changed and business slowed down and ultimately closed, although there is a small but growing movement in Peoria to bring one back.
In 1971, two graduates of the University of Illinois, Ralph Senn and Joe Remm, founded the first Garcia's Pizza in a Pan in Champaign, Illinois, with a flying tomato as the logo. They were known as the Flying Tomato Brothers, and a few years after opening bought an iconic Flying Tomato Hot Air Balloon. They sold delicious pizza by the pan and the slice, and at the peak of their success, owned over 18 restaurants, and their story lasted for several decades before slowing down with now three remaining stores all these years later. There is one in Champaign, Decatur, and Bloomington Illinois, which is where my epic road-trip to Garcia's Pizza in a Pan in Bloomington comes into play.
A few weeks ago our party of eight drove via minivan, for a potentially delicious lunch in Bloomington. We packed up and set the GPS for 608 N. Main Street, in downtown Bloomington, and off we went. There three adults and five children aged 17 down to 6 years old.
We arrived and immediately found the outside of the building historic and charming. When we walked in it held much of the same ambience as the old Peoria Garcia's. I saw flying tomato memorabilia all over the walls, including a cartoon-like one of Ralph and Joe inside their famous Flying Tomato hot air balloon. We were greeted by Tony, who was kind and definitely showed authentic care and kindness as we took awhile to figure out our order.
After we ordered two full pizzas, one thick crust, one thin, and our group went downstairs to the lower level and sat in one of the oversized booths. There were a few other diners, but it was after the lunch rush hours, so that was to be expected. The restaurant was clean, and Tony was awesome. He brought us our piping hot fresh pizzas and order and the smell was overwhelming. It was as if time had reversed and I was working at in high school. Our large thick crust double cheese pizza was everything we had wished for and more. Delicious, fresh, and it didn't last too long. The thin crust pepperoni pizza was just as tasty. The breadsticks and cookies hit the spot, and the kids had fun playing a few games and running upstairs for soda refills towards the end.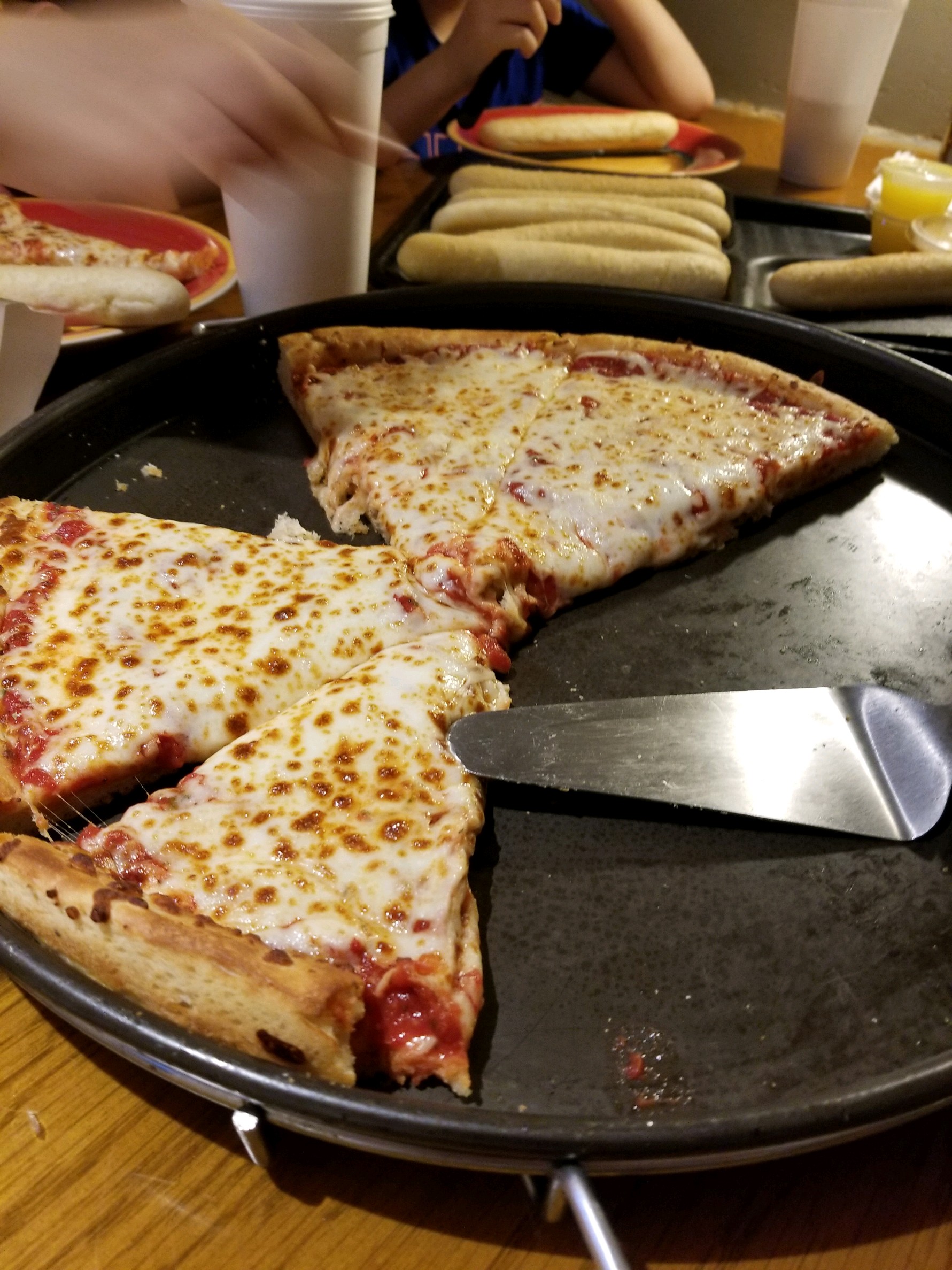 The décor and smells and tastes were worth the trip for anyone within an hour or so of Bloomington-Normal area. Tony answered all of my weird questions graciously and said that one of the owners had been in the day before actually. We had a few pieces and breadsticks left over, and as it had over two decades before, tasted even better reheated later for a snack.
The flying tomato symbol is very unique and fun and represents a huge period of Americana. My friend Erica actually dressed up as the Flying Tomato at the Taste of Peoria, and Barney still owns his name-tag. While working at the Peoria store, only 70s music would play over and over, with songs like American Werewolf In London, Afternoon Delight, and David Bowie's Space Oddity. While different, the pizza still tastes delicious and for those who loved the wonderful memories of the Garcia's in their town, I encourage you to gather a little crew, take a little road trip, and enjoy great food, atmosphere, and an awesome guy like Tony, surrounded by brick, wood, and trippy Flying Tomato Brothers décor.