Keg Grove Brewing Set to Open Friday, Adding to Blono's Growing Craft Beer Scene
After a bit of a delay, the guys at Keg Grove Brewing Company are gearing up to open their doors to the public Friday.
The brewery, located at 712 E. Empire St. in Bloomington, will be open 3-11 p.m. Friday, 11 a.m.-11 p.m. Saturday and 12-5 p.m. Sunday.
On opening day, free slices of Flinger's Pizza pies will be available on a first-come, first-serve basis. On Saturday the company will also have free 'Brazitos' from BraiZe, Lexington-based bistro.
As for the weekday schedule, co-founder Jeff Mroz said they'll set business hours following opening weekend. The hours will be listed on the company's website as well as their Facebook page.
With brewing taking place at the new facility since May 3, plenty of beer will be ready for the opening day.
Beers on tap this weekend include:
"Bryan's Mill," a "classic, crisp" 4.5% ABV American wheat;

"The Duke," an "easy-to-drink" 6% ABV cream ale;

"Two-Hour, Five-Minute Walk IPA," a 7.8% ABV Mroz said packs a hoppy punch and piney finish;

"King Corn," an 8.4% ABV imperial corn IPA with "a blast of citrus" and "passionfruit sweetness;"

"Divergent Travels," an 8.2% ABV American strong with a "subtle sweetness;"

"Three Wrongs," a 7.1% ABV, lighter-bodied stout suitable for summer sipping.

The "Any Direction You Choose" series featuring three beers with varying hop styles;
Mroz also hopes to have "Holy Jeans," a blueberry wheat beer, available by Friday. There will be non-alcoholic bottled options available as well.
Just a few steps away from the Constitution Trail, co-founder Mike Hoff envisions the brewery as an oasis for pedestrians and cyclists. Bike parking available and is provided by Friends of the Constitution Trail.
Transforming the Empire Street building into a craft brewery and taproom was no small feat.
Mroz, Hoff, and fellow founder Tyler Cox began demo work in January, pouring new concrete, outfitting the space with new plumbing and wiring. The company also constructed new walls and installed a walk-out cooler to keep the beer nice and cool for customers.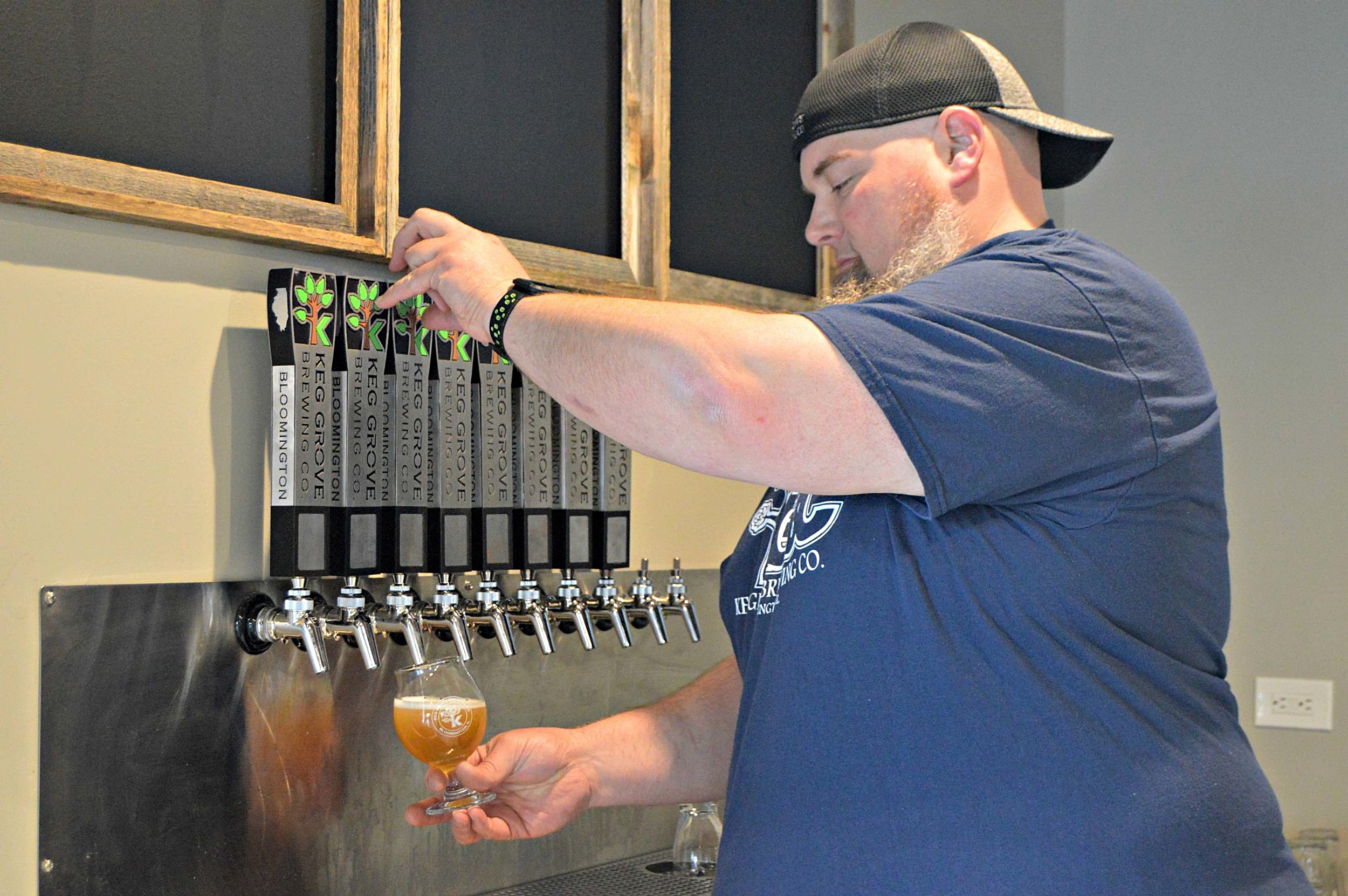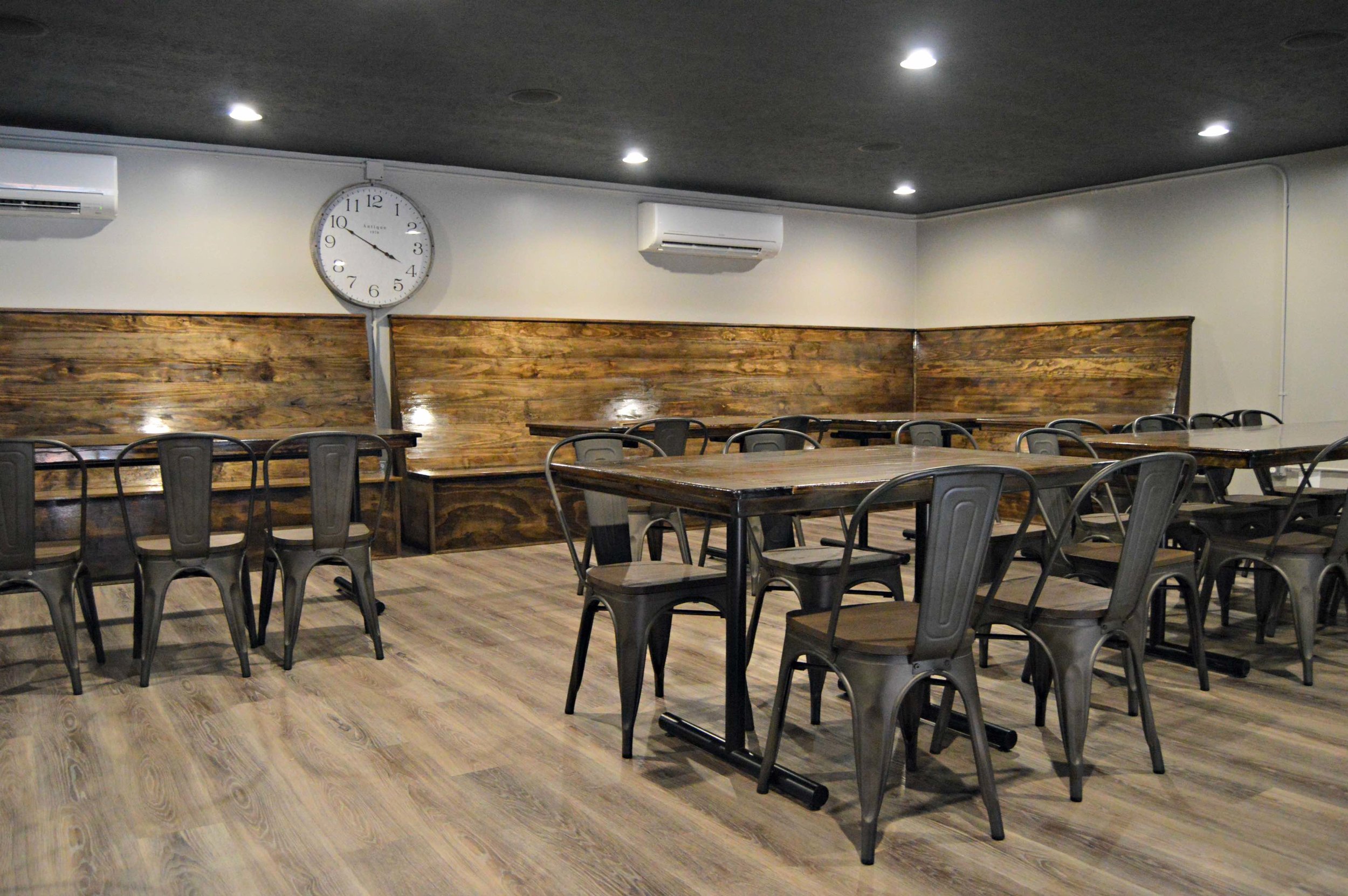 Keg Grove has several tanks in the facility and they all have their own names, ranging from "Donny" to "De Jesus," taken from the cult-classic film, "The Big Lebowski."
"The whole premise of the movie is just to take a deep breath, relax and find that way," said Mroz. "That's kind of what we had to do a lot: stop, take a breath and find that path forward."
The facility once served as the main office for Lumber Lane, before housing a cycle shop for nearly 20 years.
The newly renovated space is modern, with natural light from a glass garage door reflecting on the row of massive fermentation tanks lining the ground-floor seating area. The exterior has a fresh coat of paint and new rust-color metal roof. The brewery has seating both on the main floor and in a mezzanine. Both areas bring the taproom's total seating to 60, with room for just under 100 patrons.
History is a pretty big deal to the Keg Grove founders -- who named their brewing company after a local legend -- as shown through details like original wood beams and framed newspaper from 1901.
Giving back is another component of the trio's "Community First, Beer First" motto: Mroz said any tips collected during the month of June will be donated to local charities, with this week's tips going to The Tool Library.
For now, Keg Grove's brews are only available at the taproom. The company plans to distribute the beer to other local establishments after managing the launch of the taproom.
"We wanted to be conservative and meet the needs of our customers," said Mroz. "Once we can make sure we're meeting our needs inside, then we'll venture out."
What's Next: Keg Grove will be among the many Midwest craft breweries pouring samples and competing against one another at the Field Day Beer Fest this Saturday at Destihl's Beer Hall in Normal. The event runs from 1-5 p.m., costs $40 ($55 same-day), and tickets are available now.
They'll also occasionally host local food trucks, including Curbside Grillin' during a mid-month ribbon-cutting celebration and Healthy in a Hurry on June 16.
Go Further: Hear Mroz and Hoff talk with Scott Scherer of White Oak Brewing on the locally-produced podcast Craft Beer Digest.