Local Trainer's Invention is Changing the Gym Equipment Industry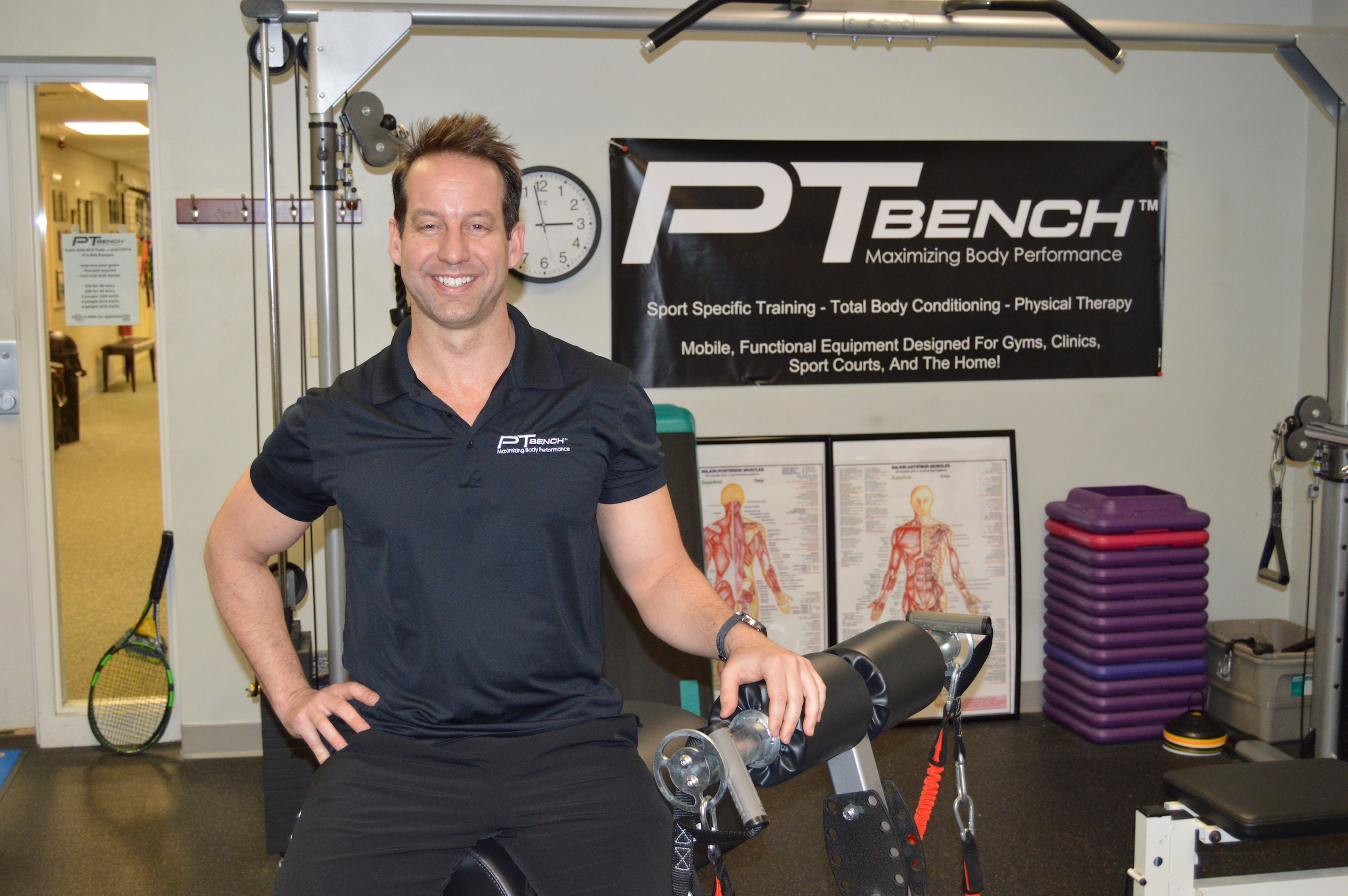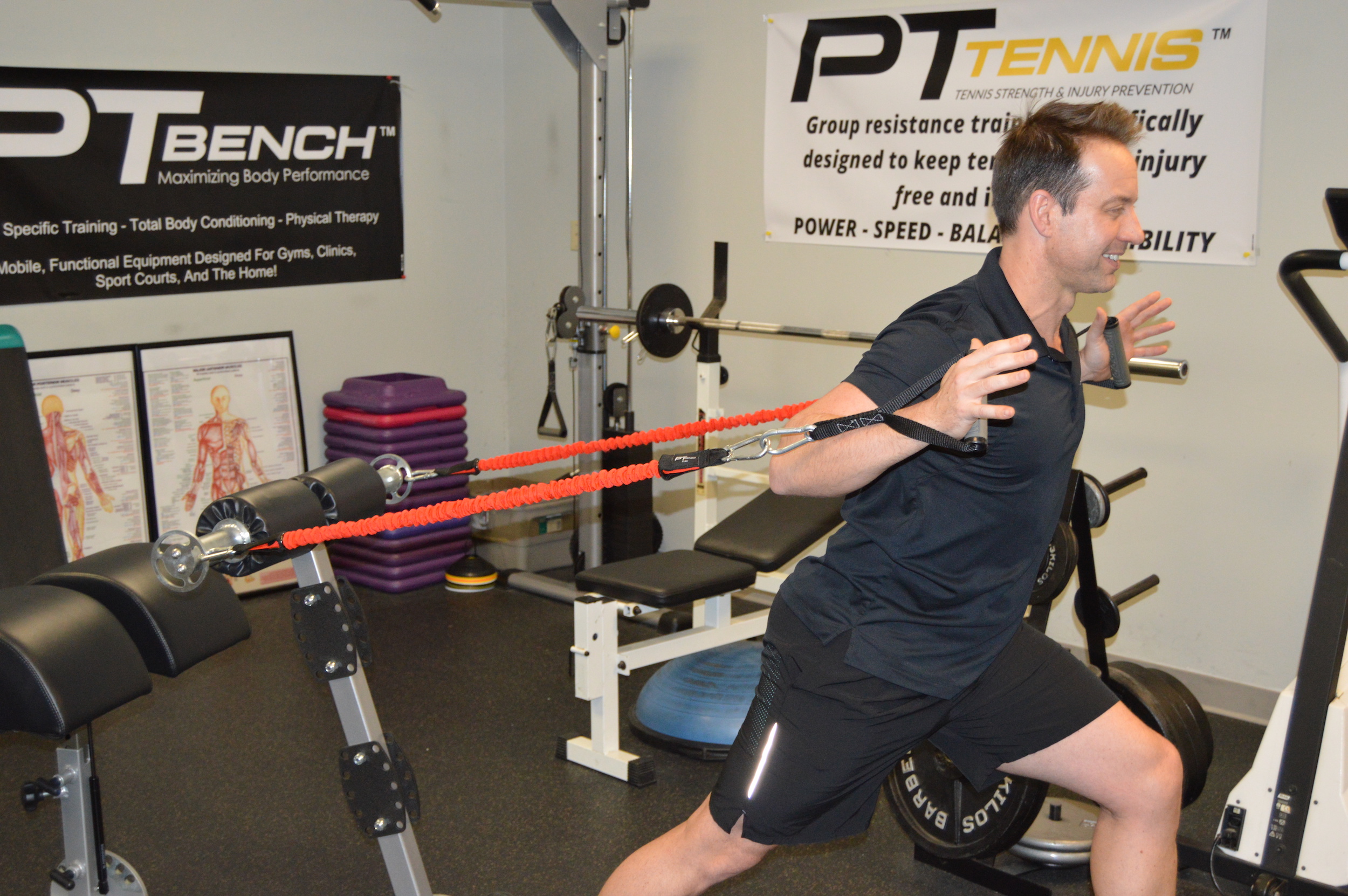 In a small training studio at the Evergreen Racquet Club, Robert Runyan created an invention which he believes will enhance the strength training industry.
Runyan is a McLean County resident, personal trainer and inventor of the PTBench. The letters "PT" are intentionally ambiguous to encompass all facets of both physical therapy and personal training, a field in which Runyon has worked for 14 years.
Using his personal training studio at the Evergreen Racquet Club on Washington Street in Bloomington, Runyan operates 10 to 15 training sessions a day.
"This is a unique space because it is private," Runyan said. "If you go anywhere else in town you have a trainer that you have to follow around in some big gym and you are sharing equipment. Over time, with my limited space and knowing what I wanted to do with my training methods, I knew I needed something that did a little bit of everything."
Runyan set out to develop a product that could accommodate small spaces and small group settings but could also be used for full-team training. Ideally, it would be easy to store and easy to move across any surface, unlike most types of gym equipment.
That's was how the PTBench was born.
The PTBench is an all-in-one piece of strength and resistance training equipment that can perform over 100 different exercises with nearly 86 connectors. It also allows as many as six people to utilize the equipment at one time.
Since the market had few safe options for anchoring resistance bands, Runyan developed four different bands with color coding to indicate their levels of resistance. With the purchase of the PTBench, a straight bar is provided, which allows users to bench press and squat.
While many gyms have individual machines that cater to each exercise, Runyan's PT Bench is more like a "Swiss army knife."
"I didn't want to have a piece of equipment in my room that did one thing," Runyan said. "I wanted something that did everything. I witnessed someone in a very anatomically wrong position for their body because [the equipment] would not adjust very much so I patented [the PTBench] to have the ability to move all the way up and down."
Runyan's patent allows the PTBench to adjust to multiple angles to better align with a person's body type. The equipment can be used as a hyperextension machine and then, with a swift readjustment, it becomes a sit-up machine, Runyan said.
This versality allowed Runyan to develop training sessions for all ages with the PTBench. Parents feel safer allowing their kids to weight train with resistance bands as opposed to dumbbells or free weights, Runyan said. Additionally, the PTBench can be adjusted to allow for assisted pushups for older clients.
"To me, the best products always come from a need," Runyan said. "That's what I think is so cool about [the PTBench]. I've always thought I would use it and selfishly I pursued it--knowing if it turns out the way I want it to as a personal trainer, then other trainers and enthusiasts will need this. It was less profit-driven and more borne out of a need."
The origin of the PTBench can be traced back to 2013 when Runyan enlisted the aid of some local welders to create a prototype. After analyzing the prototype, Runyan decided to contact a local sports equipment manufacturer based in Moline to develop his idea. After diligent persistence, the manufacturer agreed to the idea and began developing the PTBench. Three versions later, the current PTBench hit the market eight months ago.
The original market for the PTBench was tennis and golf teams' strength and resistance training, but the versatility of the product allowed it to expand to many different customers. For residents wishing to exercise at home, the PTBench could be a time-saver and multipurpose tool to help them achieve all of their training needs.
"I've gotten better physically since using it. Making this five years ago, I thought, 'I can't get in any better shape.' I'm the typical cocky trainer," Runyan joked. "But after using it myself it has been a real nice surprise."
For more information on the PTBench or personal training with Robert Runyan, visit ptbench.com.