Half Hazard Press, a Homegrown Design Business that Stays True to its Roots
The Scoundrels of the Arts, an underground design group, has opened a larger, more dynamic studio in Downtown Bloomington.
Half Hazard Press opened November 2017 in a new 4,500 sq. ft. storefront at 105 W. Jefferson Street. Co-owners Chris Gray and Joel Hunter have operated Half Hazard Press in Bloomington-Normal since 2014. They started their business in Gray's home before moving to the their first location at 603 S. Center Street.
"We both grew up in Central Illinois and we didn't know each other [back then]," Gray said. "It just so happened, when we moved back to Bloomington we met up. We got to know each other over common music and that sort of thing."
Hunter attended The Art Institute of Chicago where he earned a Bachelor's degree in Fine Arts and Graphic Design. Gray attended Anderson University in Indiana and earned a degree in Visual Communication and Design. Gray and Hunter met after they completed college and both landed contractual work with State Farm.
The idea for Half Hazard Press grew out of Gray and Hunter's shared music taste and vision to apply the concepts of visual communication to the bands they love. At that time, the creation of visual communication such as posters for shows or bands was largely a corporate process. After studying the corporate aspects of visual communication, Gray and Hunter decided to bring those concepts to the entertainment industry.
"Doing artwork for bands--those guys had the dream job," Gray said. "They got to work with the band and be a part of the music, but they were able to translate the music visually."
Half Hazard Press has completed work for ESPN.com, Summer Camp Music Festival and Netflix while continuing to provide work for State Farm. Warner Bros. also displayed their work on a poster for the movie "IT" at a Los Angeles Gallery.
On the local front, Half Hazard Press provides print designs for Coffee Hound, White Oak Brewery and Sugar Mama Bakery. The new location on Jefferson Street allows for more space as well as many opportunities for growth.
Customers entering the store are greeted with a selection of HZRD Apparel. This location is the first physical outlet for HZRD Apparel, an off-shoot business Gray and Hunter created last spring.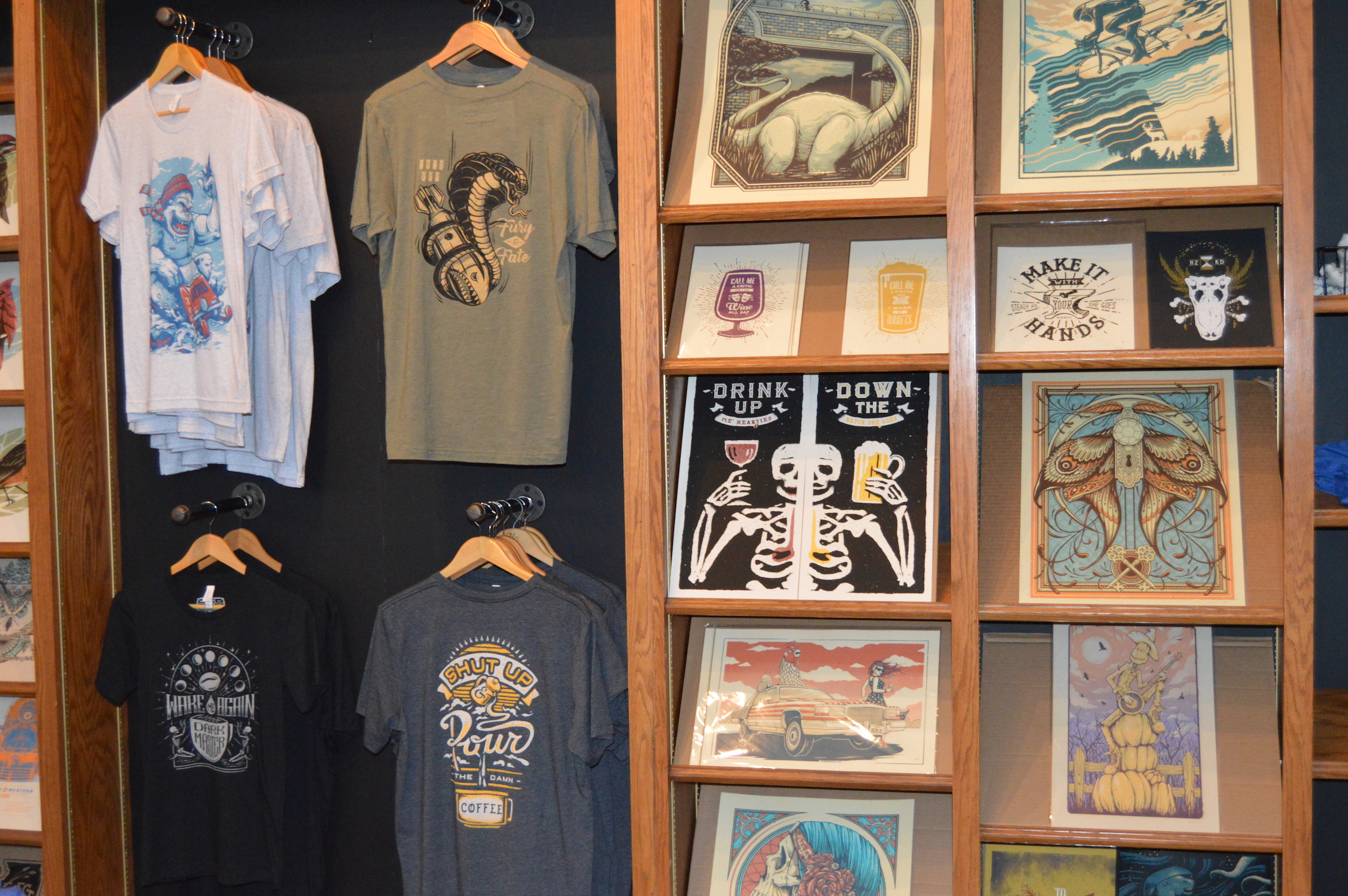 "HZRD Apparel is Midwest-inspired."
Half Hazard Press Co-owner Chris Gray
"HZRD Apparel is a Midwest-based, Midwest-inspired apparel company," Gray said. "We want to be Central Illinois' local apparel company. We want to make things that represent the people around here. People have called our apparel design blue-collar--gritty and sturdy."
Visitors to the store will find a wall to their right filled to the ceiling with samples of Half Hazard Press designs. To the left sits a countertop; behind it, machines churn out the artwork.
Down the road, Gray hopes to hold classes and make equipment available to customers. Additionally, Half Hazard Press hopes to host shows in the shop in partnership with the Castle Theatre.
Half Hazard Press is proof that you can do cool things and not be in a big city, Gray said.
"We have really ramped up the local stuff we have done in the past two years," Gray said. "We saw a need for a design studio here in town and approached things a little different than a commercial design space. Plus, we have always enjoyed growing up in the Midwest. There is a lot to appreciate here. We never saw ourselves leaving this area."
For more information about Half Hazard Press, visit their website or call 309-807-0544.