Bloomington Takes the Next Step Toward a New Connect Transit Center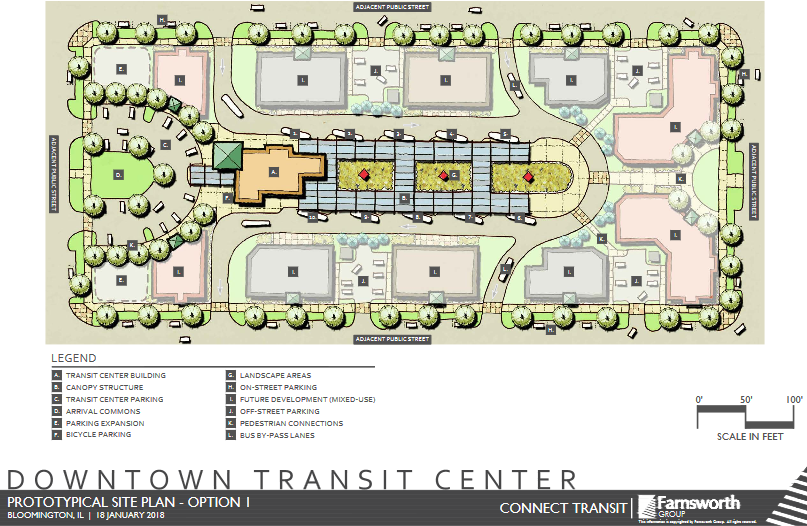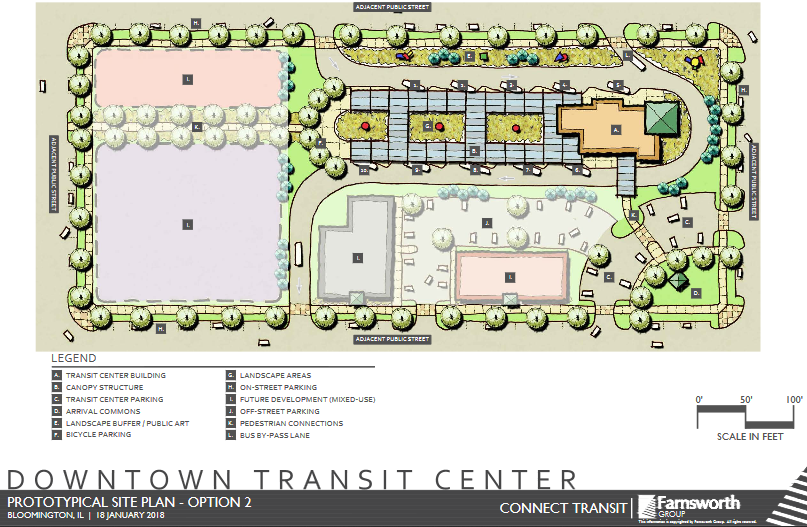 Connect Transit wants the City's help in selecting sites for a feasibility study on its proposed Downtown Bloomington bus transfer center.
Representatives from Connect Transit and Farnsworth Group, Inc. presented two early conceptual drawings (depicted above) for the project during a City Council special session Monday evening. (Image credit: Farnsworth Group, Inc.)
The two drawings show potential layouts for a site including 7,425 sq. ft. of indoor and outdoor amenities, as well as the potential for future on-site development. With a size of 550 x 250 feet, the site would be larger than most Downtown Bloomington blocks.
However, the designs don't include a specific project location. Connect Transit General Manager Isaac Thorne said Connect Transit wanted to make sure it had the City's backing before making plans for a particular site, although ideally the project would be located between East and Madison Streets.
Thorne said the current Front Street transfer center can only accommodate six of Connect Transit's eight vehicles at once. The new designs include room for ten buses to account for increased ridership, expected to grow from 2.2M to 2.4M annual riders within the next year.
Ward 7 Alderman Scott Black said the need for the project is undeniable. "It's frankly humiliating to go from Downtown's transfer station [in Bloomington] to Uptown's transfer station [in Normal]."
"I think fitting this into Downtown in a way that works well for [the public's] needs as well as the city's needs and our comprehensive plan will be a challenge," said Ward 4 Alderwoman Amelia Buragas.
Both Alderman Black and Alderwoman Buragas agreed the project's success would hinge on cooperation among Connect Transit, the City and the public.
Connect Transit received a $250,000 grant from the U.S. Department of Transportation last week to conduct a feasibility study for the project. Thorne said the company does have funds allocated in its budget for the project, although it plans to explore a mix of public and private funding toward the project through grants and on-site development agreements.
What's Next:
Farnsworth Group, Inc. Vice President Aaron Quick said the council discussion Monday was just the beginning of a process that could take 3-5 years to come to fruition, including up to six months for a feasibility study once the City identifies some potential sites for the project.